Rugged Design.
Functional Form.
We designed the RX10 Tablet with the latest Intel® Core M Processors, providing optimum mobile performance, exceptional responsiveness and potentially limitless battery life. With a 10.1 inch full HD LumiBond® display plus IP65 and MIL-STD 810G certification, the RX10 fully rugged tablet is the perfect solution for mission critical work environments.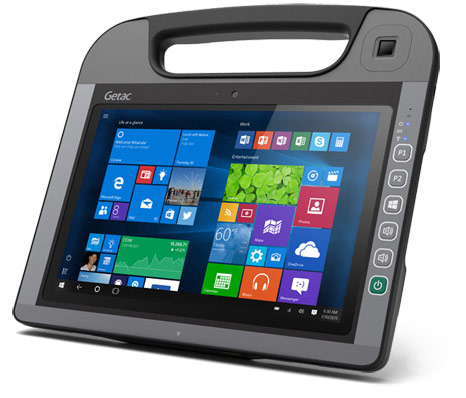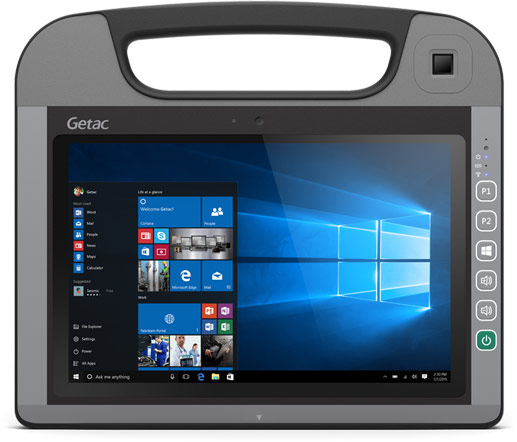 Integrated Carry Handel
Optional ANSI/ISA 12.12.01 Certified
Standard Bridge Battery Leading to enhance field productivity
Secure Opal 2.0 SSD
Optional 1D 2D Barcode Reader
Optional Finger print Scanner and RFID Reader
Thin and Light
Size matters when it comes to mobility. That's why we built the RX10 with a 10.1-inch display but kept it only 1.2kg and a slim 18.8mm thin. It is not only lightweight but also easy to carry with the integrated ergonomic handle and, with the hand-strap SnapBack, is designed to easily sit on one hand.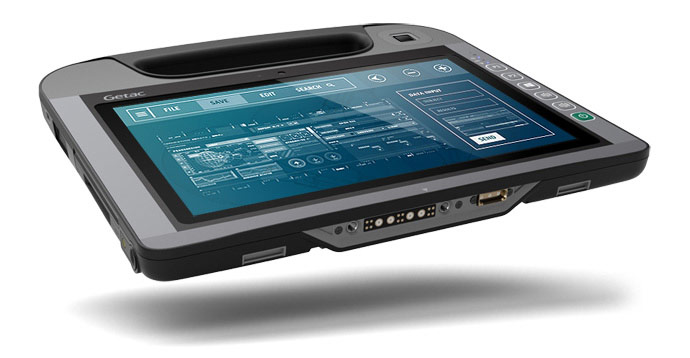 Intel® CoreTM M Processor.
The RX10 can be configured with the latest Intel Core M processor, delivering an amazing level of CPU performance.

Intel HD Graphics 5300.
Getac's RX10 features the new Intel HD Graphics 5300 providing an unparalleled level of responsiveness and frame rate for both 2D and 3D graphics.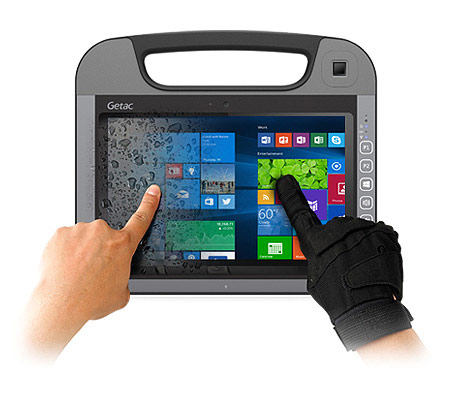 LumiBond® 2.0: Glove-Sensitive, Responsive & Resilient.
The RX10 utilises our revolutionary LumiBond® 2.0 technology with enhanced touch function (Wet-Touch, Glove or Pen mode) to achieve a display that is more readable, and offers better contrast and more crisp colours than any other rugged tablet display. By bonding the display glass with the touch panel and LCD, we've created a single pane that optimises both the durability and optical performance.
Ultra-fast 4G LTE, WiFi & GPS.
We packed the RX10 with the latest technologies to help you get your job done. Designed to be used in the field, your RX10 can be configured with 4G LTE mobile data. Every RX10 includes the latest 802.11ac WiFi for data transfer. The RX10's dedicated GPS offers enhanced search capacity, faster location positioning and improved accuracy over competitors' embedded GPS designs.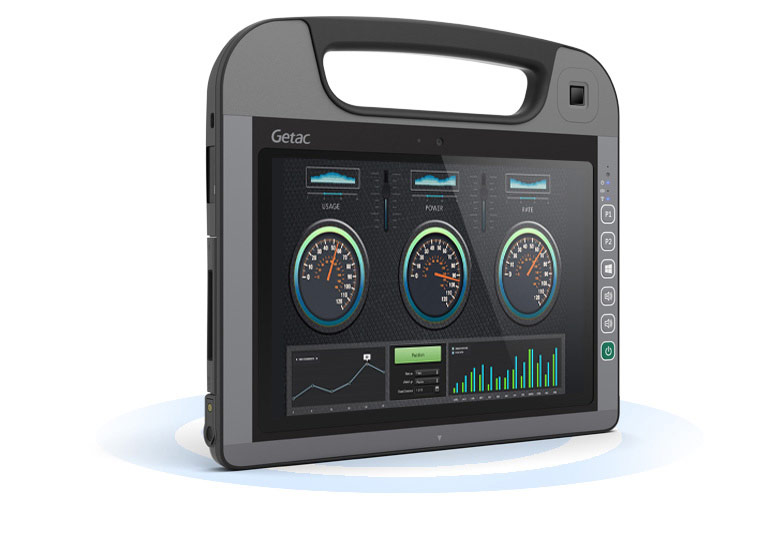 Advanced 4G LTE
The RX10 can be configured with 4G LTE WWAN and features an 8-band 3D antenna for exceptional download and upload speeds with fewer dropouts.

Dedicated GPS
The RX10's dedicated GPS offers 2x search capacity, faster location positioning and improved accuracy over embedded GPS technology.

802.11ac WIFI
The RX10 features 802.11ac WiFi, the latest and fastest in wireless connectivity technology – up to 3x faster compared to standard 802.11n WiFi.
Collect & Manage Data.
Other tablets make you choose between features. The RX10H offers every data capture technology you'll need – with connection options to send and receive data anytime.

Barcode Scanner.
Embedded in the left side to easily point and scan labels and more.

NFC / RFID Reader.
Easily capture data via Near Field or Radio Frequency transmission.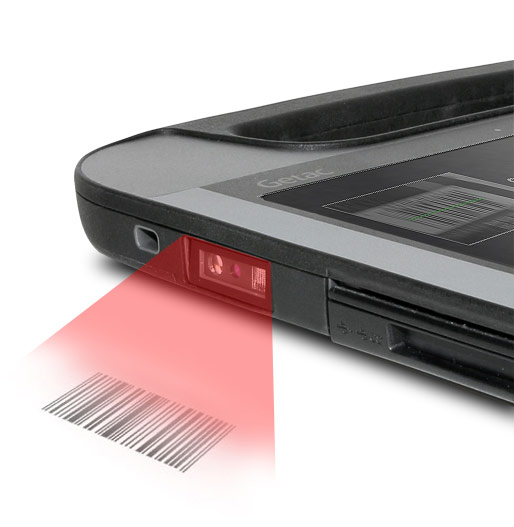 LifeSupport™ Hot-Swappable Battery Design.
With Getac's LifeSupport™ hot-swappable battery design, you can extend your working hours allowing greater productivity in the field. With LifeSupport, an integrated battery cell allows you to swap the main battery with a fresh one without shutting down the system.*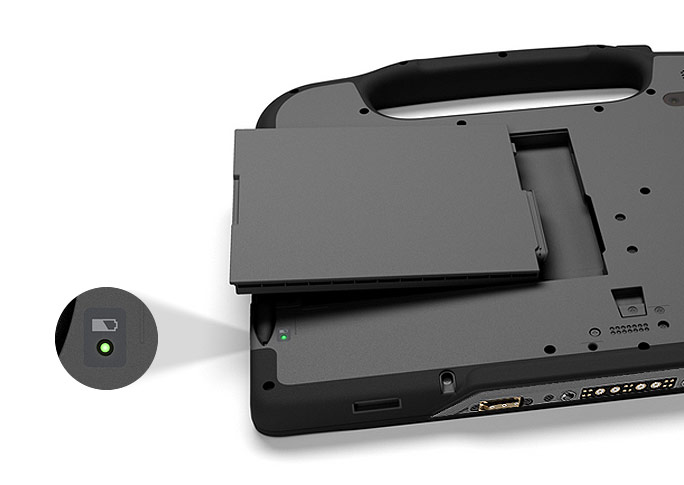 Personalise Your RX10.
Seamlessly customise your RX10 for your needs with a variety of specialised accessories and optional SnapBack upgrades.

Smart Card / CAC Reader.
The RX10 supports Smart and Common Access ID Cards for secure identity verification.

Office Dock.
Easily dock and connect your RX10 to your office desktop computer.

Detachable Keyboard.
Upgrade to a liquid resistant, full-sized QWERTY keyboard for faster typing.

External Battery Charger.
Always stay powered for those long, marathon work shifts.
Versatile Kickstand.
Prop up your RX10 on any surface for easier hands-free viewing or stabilize it in your hand for comfortable use in any position.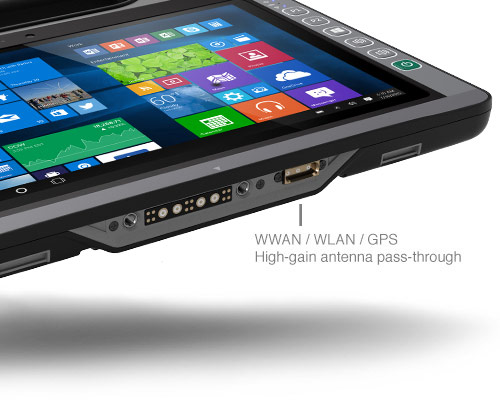 Universal Deployments.
Whether you are deploying in vehicles, forklifts, or other forms of transportation, the RX10 can be configured with tri-pass through antenna ports allowing you to simultaneously connect high-gain GPS, WWAN and WLAN roof mounted antennas.
Industry's Best 3-Year Warranty.

Accidents can take your equipment out of service when you least expect it, especially in a rugged environment, which can cause costly equipment downtime.
That is why Getac has introduced accidental damage as standard under our new Bumper-to-Bumper warranty, to help minimize your enterprise IT costs.
Bumper-to-Bumper is your hassle-free guarantee, supported by the best Pack & Collect logistics service in Europe, and rapid repair and return by Getac's in-house experts.
That means you can depend on us to have your unit back in service within days.
Standard.
3 years Bumper-to-Bumper
*Provides up to one minute to replace the main battery.
**RX10 comes standard with a 3 year warranty. For full details of the warranty protection, see the terms and conditions.